Senior living costs can be confusing. Different communities use different pricing models. A CCRC may charge a large upfront entrance fee, but offer a low monthly rent. One community may charge for personal care services through levels of care, while another may include those services at no additional cost. So, how do you make sense of all of the different costs, and how do you compare costs across communities? We're here to help.
Senior living costs fall into two primary categories: one-time costs and monthly costs.
One-time costs are upfront costs that are paid once to the community. They may include entrance fees or community fees, pet community fees, and room improvement expenses (special painting or finishes).
Monthly costs are fees paid to the community on an ongoing basis, such as rent, levels of care, medication management, and extra costs for access to special amenities or services: to keep a pet, rent a storage space, garage parking, extra housekeeping, etc..
We are going to address monthly costs in this article, and we will follow-up with another article on one-time costs. Here is the one-time costs article on community fees and entrance fees if you want to skip ahead.
There are three primary categories of monthly costs in senior living:
Rent
Care Costs (Levels of Care and Medication Management)
Additional Costs
1. Rent
Rent is the largest ongoing expense in senior living. It can range from $2,000 to over $10,000 per month, but the median cost across the US in 2018 is $4,000 per month according to a survey completed for GenWorth.
Several factors can cause rent to vary from community-to-community and apartment-to-apartment. Rent varies by region, community, apartment type/size, care level, state regulations, and community pricing structure. Typically, rent costs increase as you go from independent living to assisted living to memory care, from smaller studios to larger 2-bedroom apartments, and increases as you go from older to newer communities with more amenities and services. A small studio in independent living may only cost $3,000 per month, while a luxury 2-bedroom in assisted living may cost $6,000 per month.
---
What is included in Rent?
Services included in rent vary from community-to-community, which can make comparing monthly rent difficult. Most communities include housing, most utilities, light housekeeping, maintenance, access to community amenities and activities, and dining (1-3 meals daily) in the monthly rent.
Care is more variable. Many communities charge for care services in addition to rent through levels of care and medication management fees. All-inclusive communities, however, include all care costs in rent.
Additional services and amenities, such as cable/internet, keeping a pet, emergency pendants, private transportation, renting a storage space, and other services are often not included in the monthly rent payment and require an additional charge. These are optional items that some people will want, but others won't want (who wouldn't want to keep a dog???). That's why these are usually an additional charge and not lumped in with the monthly rent.
Services Included in Rent:
Usually Included
Housing

Mortgage/Rent
Real Estate Taxes
Utilities (except cable/internet/phone)
Maintenance

Hospitality

Dining: 1-3 meals daily
Light Housekeeping
Amenities
Activities
Scheduled Transportation
Sometimes Included
Care

Levels of Care
Medication Management
Rarely Included
Additional Services

Pet Fees
Garage Parking
Storage Space
Extra Housekeeping
How is Rent calculated?
Determining your monthly rent is straightforward. Choose a community, a care type (independent living, assisted living, or memory care), and pick an apartment.
For member communities on Simply Senior Living, just look at the pricing table in the Apartments section of their community profile:
Rent Increases
Rent costs are often increased by communities each year. These costs commonly go up by 3-5% per year, but this depends on the strength of demand in the market and the competitive environment for the provider. In areas with lots of new competition or with limited demand, your rent may stay the same or even drop. In other areas where communities have long waitlists, the average increase will likely be 4-5%.
If you're concerned about cost increases, ask the community that you're considering when they typically raise their rates and by how much. Also ask how much they've raised their rates in the past. If the community needs your business, then you may be able to lock-in this year's rates for an extended period of time.
2. Care Costs
Care costs are typically the second largest monthly costs for a senior living resident after rent. Many communities charge additional levels of care and medication management fees in addition to rent, while a few all-inclusive communities include these costs in the monthly rent.
What Exactly are Levels of Care (Level 1, Level 2…)?
Levels of care provide an easy way for communities to charge for the personal care services provided to residents. The communities will group different services into levels (Level 1, Level 2, Level 3, etc.) and then will charge the resident one monthly charge for those services. The higher the level of care, the more intensive personal care services that the resident needs and the more expensive the monthly cost.
For instance, a resident receiving only assistance with dressing may be a Level 1 and pay only $500 per month for that service. A resident that is receiving assistance with bathing, dressing, and eating may be a Level 3 and pay $1,500 per month.
Example Levels of Care Chart:

| Level of Care | Points from Assessment | Monthly Cost ($/mo) |
| --- | --- | --- |
| 1 | 0-25 | 500 |
| 2 | 26-100 | 1,000 |
| 3 | 101+ | 1,500 |
While most communities offer between three and five levels of care, there are no industry standards for the specifics of these levels. So, how many levels are available, which services are included in a particular level, and how much the different levels cost all vary from community-to-community.
How Will the Community Determine What Level of Care that I Need?
Many communities use a points system to determine the appropriate level of care for a particular resident.
To calculate the level of care for a resident with a points system, the community will complete an assessment (questionnaire) of the resident's needs for personal care services. To score the resident's points, the community will then reference a chart that assigns points to each type of personal care service. For instance, bathing services may be 25 points while dressing may be 10 points. Then the resident's points will be summed and the total points will be compared to different buckets to determine the level of care. For instance, Level 1 may require 0-25 points, Level 2 may be between 26 and 75 points, and Level 3 may be for residents that score greater than 75 points.
Below is a simplified assessment of a level of care determination using a points system.
Assessment of Personal Care Services for a Resident:

| Personal Care Service | Points |
| --- | --- |
| Assistance with Dressing | 10 |
| Assistance with Bathing | 25 |
| Total Points | 35 |
Levels of Care – Assessment Chart:

| Level of Care | Points | Monthly Cost ($/mo) |
| --- | --- | --- |
| 1 | 0-25 | 500 |
| 2 | 26-100 | 1,000 |
| 3 | 101+ | 1,500 |
What about Medication Management?
Medication management is a commonly needed type of personal care service. Many seniors take ten or more medications (including supplements) a day. Ensuring that these medicine regimens are closely followed can mean the difference between life or death.
Senior Living communities will manage the administration of medications for residents. Some communities charge a separate medication management fee to offer these services, while others include medication management services in the rent or levels of care costs.
Medication management fees are typically simpler than levels of care. Most communities only charge for one or two levels of medication management. For instance, a community may charge $500 per month for any and all medication management, despite the complexity of the medicine regime. While another community may charge $300 for simple medication management and $800 for more complex regimens.
3. Additional Costs
A number of additional services and amenities are available in senior living communities for an extra monthly charge. These are typically the least expensive portion of monthly costs for senior living and many or all of these services are optional.
Here is a list of some of the most common additional services. Cost ranges are a general guideline; actual costs will vary from community-to-community.
Pet Fees – $25-300 / month – In addition to one-time fees, many communities charge additional fees to permit a pet to live in the community. In addition, breed and size restrictions often apply.
Laundry – $50-100/month – Most assisted living and memory care communities wash, dry, and fold clothes for residents. Other communities and most independent living communities provide this service at an extra charge.
Flat Linen – $50-100/month – Some communities will wash and dry sheets and make beds at an additional cost; others include this service in the monthly rent.
Extra Housekeeping – varies (hourly or per session) – Most communities provide light housekeeping (vacuuming, bathroom cleaning, etc.). More extensive cleanings typically require an additional cost.
Emergency Pendant – $15-40 / month – a pendant can be worn and used to call for help in the event of an emergency.
Garage or Covered Parking – $25-200/month – These spaces are often limited and preferred, so there is typically an additional charge for these.
Storage Space – $25-250/month – Downsizing from a larger home to a smaller senior living apartment of cottage can be difficult. Many communities offer on-site storage spaces so that you can keep and easily access those belongings that you can't let go of, but don't fit in your apartment or cottage.
Furnished Apartment – Included-$250/month – Some care-focused communities (assisted living or memory care) may include furnishings in the rent cost. Other communities may have limited furnishing sets that a resident can rent for an additional cost.
Guest Suite – varies (per night) – Many communities have a guest suite available for rent to make it easy for friends and family to visit and spend time with residents. The suite is typically rented on a nightly basis and restrictions on who is eligible to rent the room may apply.
Transportation – varies – Scheduled transportation is often included with the monthly rent. Private or unscheduled transportation often require an additional charge.
Full Example with Actual Pricing
So, as we've broken down so far, monthly senior living costs are typically broken down into three components: rent, care costs (levels of care and medication management fees), and additional costs. Now, let's put them all together using an actual example.
Let's assume that you're looking for a one bedroom apartment in assisted living, and that the community has assessed your care needs, and you need a Level 2 of care.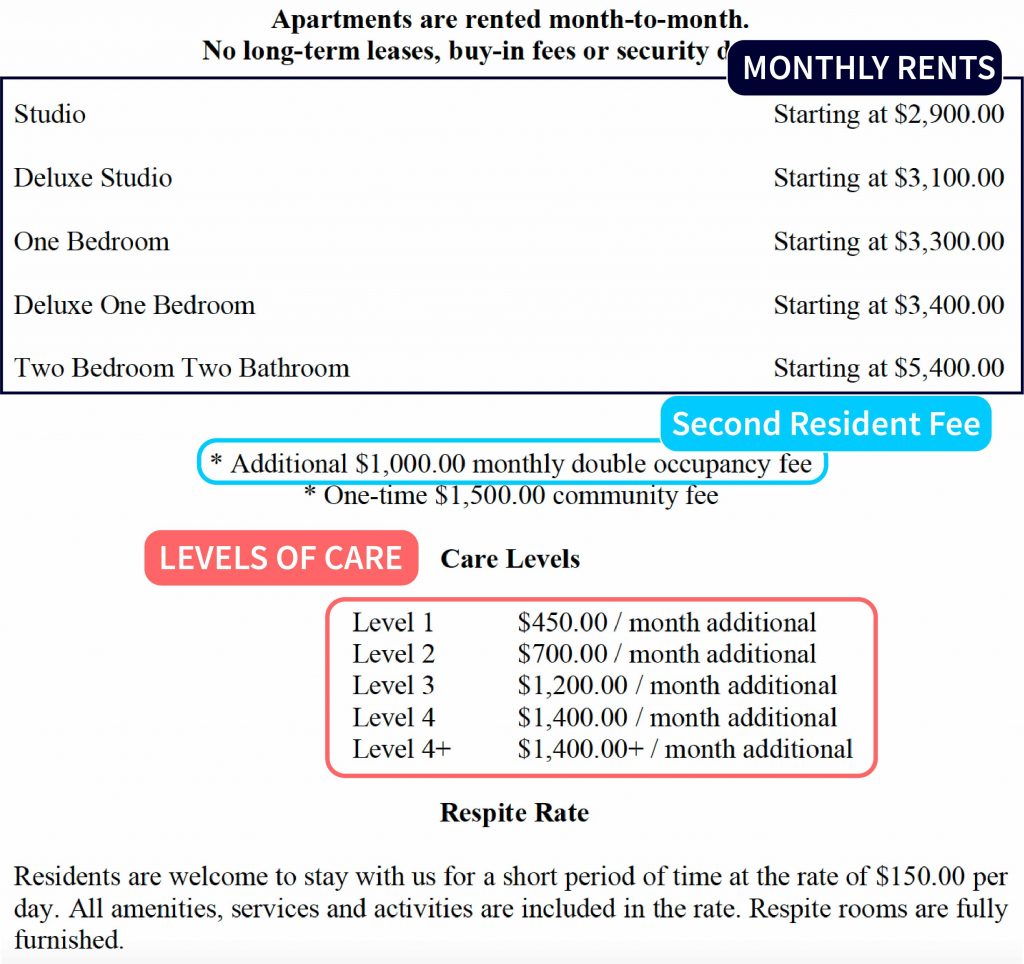 So, the pricing sheets shows that the One Bedroom rent is $3,300. In addition, Level 2 costs $700 per month. So, your total all-in cost per month is $4,000.
Notice that this pricing sheet doesn't include any medication management fees. That means that this community includes medication management in the levels of care cost. This is not always the case. Other communities may charge an additional fee of $250-1,500 per month for medication management.
Example Summary:
| Cost | Amount ($/mo) |
| --- | --- |
| Monthly Rent | 3,300 |
| Levels of Care | 700 |
| Medication Management | Included |
| Additional Costs | None |
| Total Costs | 4,000 |
This pricing sheet does not include any additional services. These are likely available at this community, but are listed elsewhere or available upon request. Additional services such as keeping a pet, garage parking, storage rental, extra meals, or housekeeping are often available at an extra monthly charge. If you need a special amenity or service, be sure to ask if it is available in the community and at what price.
Additional Considerations
Affordability
Many people are surprised by the total monthly cost of senior living. This is because senior living is a bundled service, more akin to staying at an all-inclusive resort than renting a run-of-the-mill apartment. Communities are happy to point out that senior living includes housing costs (mortgage or rent, real estate taxes, many utilities, insurance, etc.), dining (restaurant-style meals), housekeeping, maintenance, access to amenities, personal care services, social activities, and many more services.
Short-term Stays (aka Respite)
Pricing for short-term stays is different from pricing for a traditional stay. Short-term stays are typically priced in daily cost ($150/day versus $4,500 per month) versus monthly, since the stay will only be for a couple of days, weeks, or months versus a traditional stay that often lasts months or several years. In addition, short-term stay pricing often includes care costs (levels of care and medication management fees).
Short-term stay pricing is often more expensive than traditional pricing. For example, a studio that might normally be $4,000 with level 1 of care may be $160 per day or $4,800 per month as a short-term stay. Short-term stays are more expensive for the provider, which is why it is more expensive. With short-term stays, providers need to provide furnishings, typically include care in the rent cost, have additional cleaning/maintenance costs in preparing the apartment, and lose revenue due to additional vacancies.
What about Therapy Costs?
Some communities offer Physical or Occupational therapy on-site at a therapy gym or therapy pool as a convenience to residents. This is often provided by a third-party company that specializes in therapy.
Medicare typically covers most physical or occupational therapy costs, but may require copays or deductibles. Medicare will not cover rent, levels of care, medication management, or any extra costs associated with living in the senior living community. If you prefer to receive physical therapy in a skilled nursing facility (nursing home) then Medicare will pay for your living and therapy costs as long as you're receiving therapy, but only up to a maximum of 100 days. Most stays in nursing homes for rehabilitation, however, last only 20-25 days.
All-Inclusive or A la Carte Care?
Most assisted living and memory care communities charge additional fees for levels of care and medication management (a la carte). Some communities (all-inclusive) price those fees into the rent.
Is an All-Inclusive Model Better?
It depends.
All-inclusive pricing provides a simple, single monthly cost and may be cheaper if you have high care needs. It also gives residents peace of mind, knowing that the costs will remain the same, excluding rent increases, during the resident's entire stay in the community
Opponents of all-inclusive pricing point out that those residents may be paying for care that they aren't receiving. For instance, a low need resident (equivalent to level 1 in an a la carte community) may stay healthy for a long period of time while paying the all-inclusive rent that assumes a higher-level of care. Opponents also point out that all-inclusive communities may encourage high-need residents to move into different care settings such as a nursing home.
If knowing exactly what you're going to pay, excluding rent increases, over time is extremely important to you, then an all-inclusive cost model may be best. If not, then the total cost or other factors may drive your decision.
Comparing Costs between All-Inclusive and A la Carte Communities
In order to make an apples-to-apples comparison between communities, make sure that you always add levels of care and medication management fees to the monthly rent.
To calculate the total monthly cost for an all-inclusive community, just take the rent for the apartment you've chosen and add it to any additional costs (pet fees, storage, extra housekeeping etc.). That's it; you have your total monthly cost. Since levels of care and medication management fees are already included in the rent, there is no need to add those costs.
For a community that charges for levels of care, take the rent for the apartment that you've chosen, estimate your level of care and add that cost, add the medication management fee, and add any additional costs (emergency food, extra meals, pet fees, etc.). Now you've got your total cost for both types of communities.
Example Comparison
Here is an example comparison. It is for a prospective assisted living resident that needs Level 2 of care and light medication management. She wants to rent a studio, since she doesn't need much space and wants to spend lots of time in the community's library. The resident also has a cute dog named "Maggie" that she wants to live in the community.
Comparison of Pricing Structures:

| Cost | All-Inclusive ($/mo) | A la Carte ($/mo) |
| --- | --- | --- |
| Monthly Rent | 4,000 | 3,000 |
| Levels of Care | Included | 750 |
| Medication Management | Included | 250 |
| Extra Costs – Pet Fee | 50 | 50 |
| Total Costs | 4,050 | 4,050 |
In this example, both methods (all-inclusive and a la carte care) total the same monthly cost. This is rarely the case, so you'll have to apply more judgment in your final decision. If you weigh other factors (dining, hospitality, amenities, proximity to friends and family, location, etc.) along with your total monthly cost in choosing a community, then you'll likely get a satisfactory answer.
Future Care Cost Increases
Nearly all residents require more care over time. This is unavoidable. As a result of this, you need to plan for additional costs of care in the future.
For instance, let's say that you move into a community needing level 1 of care with a cost of $500 per month. You can afford this amount, in addition to the rent, and feel comfortable in the community. If your care needs change rapidly and the community reassesses your care needs, then the community may increase you to a level 3 of care with a cost of $1,500 per month. The extra $1,000 per month ($1,500 for Level 3 minus $500 for Level 1) may really pinch your budget. This is an event you need to consider and plan for.
It can be hard to predict what level of care you'll be at in the future since the point systems that determine levels of care can be confusing and your needs may change abruptly.
An easy way to get a sense for this is to ask the community what percentage of residents are at the various levels of care. Communities keep this information in their resident management systems and in an internal document called a rent roll.
If the community says that 80% of residents are Level 3, then you can safely assume that you will likely incur the Level 3 of care cost in the near future. If you can afford that extra monthly cost and are comfortable with the community, then it's not a worry, but you can be ready for it. If you think that the higher monthly cost will stretch your budget too far, then you may want to consider a more affordable community.
You've Got This
Monthly or ongoing costs for senior living are not too complicated once you understand the different components: rent, care costs (levels of care fees and medication management fees), and extra costs. Here is the follow-up article on one-time costs including community fees and entrance fees, so you'll have all the cost knowledge you need to find a senior living community.