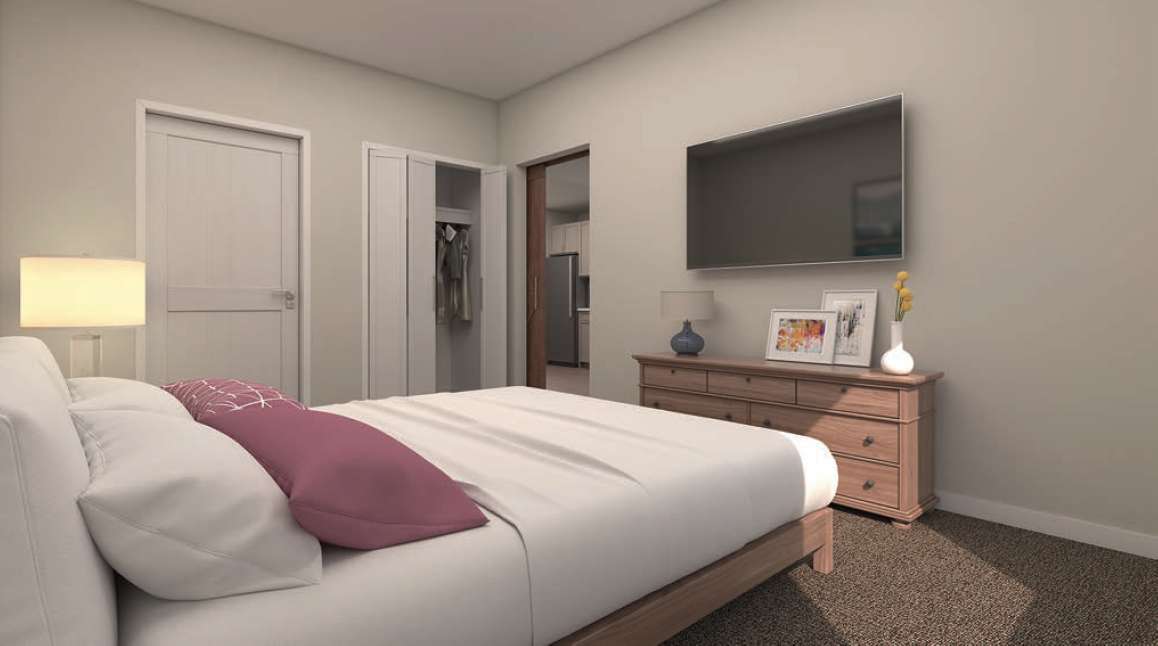 Find Assisted Living Near You
Assisted living is a type of senior living community, or senior housing, that helps residents live as independently as possible while meeting the resident's personal care needs.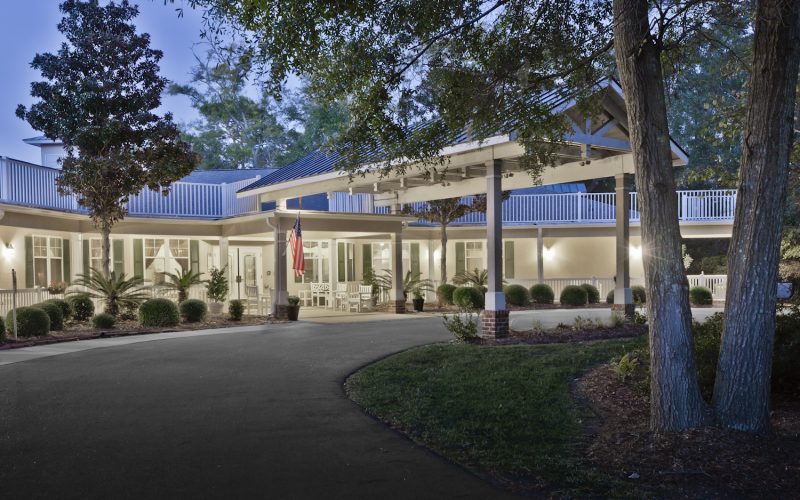 Assisted living and memory care community - Bloom at Hilton Head
The primary form of assistance that assisted living communities provide to seniors is called personal care services.
Personal care services are services such as bathing, clothing, managing medicines, assistance with incontinence, and others that are provided by senior assisted living communities. These services help residents fulfill what the senior living industry calls activities of daily living.
These activities include daily grooming, dressing, walking, cooking, eating, using the rest room, and more.
When we were young, our parents typically provide these personal care services to ensure that we were warm, clean, and well fed. As we grew, we developed independence and were able to meet these needs on our own. As we age, our declining health may require that we receive assistance with the activities of daily living from our families or from others to ensure a high quality of life.
Assisted living communities offer a number of services and amenities to provide an enriching environment for their residents. These services typically include three meals served daily, housekeeping, maintenance, medication management, social activities (such as events, games, Bible studies, and musical performances), transportation, and of course housing in an apartment or townhome (in rare instances).
Assisted living apartments vary in size, number of bedrooms, number of bathrooms, and whether or not they include kitchens in some form or fashion. Studios are the most commonly available apartment type, with one-bedrooms shortly behind. A few communities, particularly newer ones, offer two-bedroom assisted living apartments. Assisted living apartments usually range in size from 250 sf to 1,200 sf.
What is Included in Assisted Living?
Assisted living communities typically provide personal care services, medication management, housing, three meals daily, housekeeping, maintenance, transportation, and social activities. These services can vary greatly in quality and cost from community-to-community.
Usually Included in Assisted Living:
Personal care services
Medication management
Housing - apartment
Dining - 1-3 meals daily
Housekeeping
Laundry services
Maintenance
Transportation
Social activities
Housing
Housing in an assisted living community is typically an apartment (studio, one-bedroom, or two-bedroom) as part of a larger community that has common dining, activities, fitness, and outdoor areas. These communities are designed to provide the privacy and dignity of receiving personal care services in a resident's apartment, while providing the social and other benefits of being part of a larger community.
Dining
Dining in an assisted living community is often served restaurant-style with one to two seatings in a large dining room. Continental or similar breakfasts are common, while lunches and dinners often feature 2-3 entrees with a selection of side items. Most communities provide a menu of always available menu items such as burgers, chef's salads, or other popular items.
Offering multiple dining venues has been a hot trend in senior living in the past couple of years. Some providers have cafes and coffee shops on site. Others have pushed for increased quality of food or to accommodate for special diets, such as vegan, vegetarian, kosher, low-sodium, or heart friendly diets.
In any case, assisted living residents often eat three meals per day in the community, except the occasional restaurant outing, so trying the food before committing is key.
Housekeeping
Light housekeeping, such as vacuuming, sweeping, and cleaning the bathrooms is nearly always included. Deeper cleans may be available at an additional cost.
Laundry Services
Laundry services are often available. This means that the community will wash, dry, fold, and put away the residents close and bedding. However, some communities charge an extra fee for some or all of these services.
Assisted living apartments rarely have washers and dryers, unless they're part of a larger community that offers independent living.
Maintenance
Maintenance is nearly always included in assisted living. This includes fixing broken toilets, sinks, showers, and replacing lightbulbs in the apartment. It also means landscaping, snow-removal, and cleaning of the common areas of the community.
Transportation
Scheduled transportation is frequently offered in assisted living communities. Residents will take the community van or bus to shopping centers, restaurants, church services, or other entertainment options per a weekly schedule. In addition, the community may offer personal transportation to medical appointments. Any transportation may come at an extra expense depending on the timing and distance.
Social Activities
There are a number of social activities that are offered at assisted living communities from fitness classes, to card games, to volunteer activities, to Bible studies, to musical performances, and more. Quickly peruse a calendar at the community that you're interested in and you'll have a strong idea of what things are offered.
What Does it Cost to Live in Assisted Living?
Key Points
Assisted living costs $4,051 per month on average in the United States
Cost varies greatly by city and quality of services/amenities provided
Range is $3,000 - $8,000+ per month
Assisted living sometimes requires additional monthly fees
Medicare does not pay for assisted living
Medicaid pays for assisted living for some low-income residents, depending on the state's Medicaid Waiver program.
Average Cost of Assisted Living
The average cost of assisted living is $4,051 per month according to the Genworth Cost of Care Survey.
This cost varies greatly by region or even within a city depending on a number of factors including level of competition, quality of provider, amount and types of services and amenities offered, and care needs of the senior resident.
For instance, a high-quality provider offering a plethora of services in a city with little vacancy and relatively limited competition, may charge $8,000+ per month for senior assisted living.
On the other end, a more affordable provider offering the essentials in a market with many competitors may charge closer to $3,000 per month.
What Additional Costs Are There in Assisted Living?
Assisted Living Costs:

Community fees
Monthly rent
Levels of care for personal care services
Medication management
Extra costs
Fees for senior assisted living are paid at move-in (community fees) or on an ongoing monthly basis (rent, levels of care, medication management, and extra costs).
Community Fees
Community fees are one-time fees typically ranging from $500 - 8,000+. This fee is paid at the time of move-in or shortly before. Unlike a deposit or an entrance fee at a continuing care retirement community, this fee is usually non-refundable. So, once you have paid it to the provider you should not expect to receive it back, except in very rare circumstances.
Many seniors are frustrated or confused by community fees, but essentially, they are another form of revenue for the assisted living provider and help the provider allay costs associated with turning over the apartments: costs such as painting, replacing carpet, and marketing.
Community fees are often the most negotiable of all assisted living costs, so a community may be running a special discount, or "concession" in the senior living industry's parlance, in order to rent the unit. If you're interested in a particular community, but want a deal then it never hurts to ask.
Monthly Rent
Rent is the primary ongoing expense paid by senior residents to assisted living communities. This amount is usually a monthly lump sum, but may be quoted in daily figure, especially for short-term or respite care.
Rent varies by the apartment chosen within a community and whether or not that apartment is shared with another resident. For instance, a studio may rent for $3,500 per month, while a one-bedroom may rent for $4,500 per month. In general, as the size and features of the apartments increase, so does the cost.
Non-family residents may live in the same apartment in order to save money. This arrangement has a couple of different names including a semi-private room, shared apartment, or a companion suite. In this case, the apartment may have separate bedrooms and bathrooms for both residents, or the two residents may share the same bedroom and bathroom.
Assisted living providers have traditionally offered shared apartments in order to provide a low-cost option to seniors, but many new communities are moving away from this and building more private studios and other apartments.
A couple may also live in the same apartment using a different pricing structure and typically at a cheaper cost than two non-family members. A common arrangement is for the first partner to pay the full private rent for the apartment, then a second resident fee is added to the monthly bill. This fee typically costs between $1,000-2,000 per month. The second resident will also need to pay for his or her levels of care.
Levels of Care for Personal Care Services
Personal care services may be included in rent (all-inclusive or care-inclusive communities) or they may be broken out separately into levels of care. Levels of care categorize the residents' personal care needs into groups in order to simplify pricing. A provider will typically offer between 3-5 levels of care, with each successive level being more expensive than the one before it.
For example, a resident with only light dressing needs may be a level 1 and need to pay $300/month for care. Another resident that needs assistance with dressing, bathing, and incontinence may need to pay $900/month for the more intensive level 3 of care.
Levels of care are determined by an assessment that is completed prior to move-in. Each year or as resident's needs change, a reassessment will be completed to determine if the resident's need for personal care services has increased. As a result, the cost for assisted living tends to escalate as most residents need more assistance over time.
Medication Management
Medication management is often charged in addition to rent. This monthly cost covers the ordering, organizing, and administering of medication to the residents as prescribed or needed. Since medicine regimens for seniors can often exceed ten medications or pills daily and accuracy is so vital to the residents' health, many communities charge a monthly fee for this added complexity and liability.
Due to safety restrictions and potential liability, assisted living residents are often not permitted by law to administer their own medications.
Extra Costs
There are several additional or extra costs that a senior assisted living community may charge. These costs are often for add-on services such as extra meals, an emergency pendant, garage parking spot, and storage space among others. These costs do not tend to be that large and are more of a convenience fee.
How Can I Pay for Assisted Living?
Since assisted living can be expensive, most seniors pay for assisted living with funds from a variety of sources. These may include social security, pension, investment, or other income. Some seniors may have long-term care insurance policies that permit them to receive care.
Paying for Assisted Living:

Social security, pension, investment, or other income
Long-term care insurance
Sell a home or other asset
Receive assistance from friends or family
Veterans' benefit
Medicaid waiver

Can Social Security Be Used to Pay for Assisted Living?
Yes, social security can be used to pay for assisted living, but it is not usually sufficient by itself. For instance, most seniors receive social security checks of $2,000 per month or less, while the average cost for assisted living is approximately $4,000 per month. Supplementing social security income with other income sources is key to affording assisted living.
Veterans' Aid and Attendance
There is a veterans' aid and attendance program for those that have served in the military and their family members. This benefit often pays about $1,400 per month to provide veterans or their family access to assisted living.
Selling an Asset
If the primary sources of income are close to affording assisted living, then the senior may sell an asset, such as a home, or rely on friends and family members. Since homes are a traditional store of value for many seniors, they will sometimes sell their homes in order to free up the equity for pay for senior living. In addition, some 14% of senior living costs are paid by adult children, so each month a financially secure adult child may contribute a couple hundred dollars toward his or her senior's assisted living care.
Medicaid Waiver
If none of the above are an option, then you may qualify for the Medicaid Waiver program in your state. Medicaid waiver programs require that you prove that you do not have sufficient assets or income to pay for the assisted living community. You may be required to go through a more stringent third-party assessment to ensure that you truly need the care.
As a resident paying for care through Medicaid, your options will be limited and largely determined by how much your state's Medicaid Waiver program reimburses assisted living providers. For instance, some states may reimburse $2-3k+ per month per Medicaid resident to providers, while others may reimburse substantially less. Your options will be more numerous if the state where you reside has a strong Medicaid Waiver program for assisted living.
Will Medicare Pay for Assisted Living?
Unfortunately, no, Medicare will not pay for assisted living. If you or a loved one needs short-term rehabilitation, then Medicare may pay for a temporary stay (less than 100 days) in a nursing home or pay for therapy expenses. The housing, dining, and other components included in assisted living rent are not eligible to be paid for by Medicare and the personal care services are not considered acute enough, so you can't use Medicare to pay for assisted living.
What is a Typical Assisted Living Apartment?
Assisted living apartments are generally studios or one-bedroom apartments, although some communities offer two-bedroom apartments.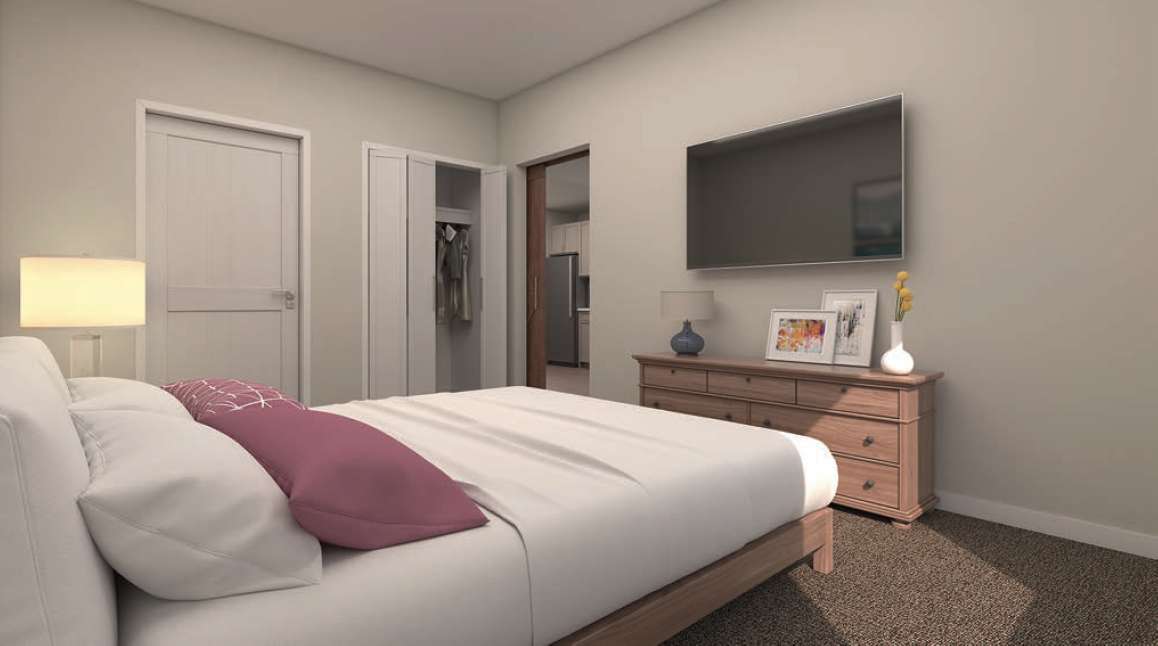 Assisted living apartment (rendering).
These apartments typically include a living area, a sleeping area or bedroom, a bathroom, a closet, and sometimes include a kitchenette or a kitchen.
Apartment Sizes
In a studio, the senior's living area and bedroom are in the same room. Studios are particularly common in memory care communities, nursing homes, and are included in assisted living communities to provide a more affordable option. Newer assisted living communities, however, often offer one- and two-bedroom apartments, in addition to studios, for those seniors or couples that need more space.
In a one- or two-bedroom apartment, the senior has a living room area separate from the bedrooms. This arrangement may be more comfortable and familiar for the resident if the additional cost is not an issue.
Kitchens
The inclusion of kitchens in assisted living apartments varies greatly from community-to-community or even within a community. Some assisted living apartments have no kitchens, others offer kitchenettes (small fridge, sink, and microwave or similar), while others offer full kitchens.
Most communities offer three meals per day to assisted living residents, along with snacks. These meals may be served in a common dining area, bistro, cafe, or other setting. As a result, large kitchens in the residents' rooms are not always necessary.
Assisted living apartments as part of a larger independent living or continuing care campus may offer larger kitchens for residents. This is because many independent living communities only include one meal per day and the community may transition the apartment between independent living or assisted living residents.
Bathrooms
Most modern assisted living apartments include a full bathroom (sink, toilet, and shower). These bathrooms are often designed to accommodate someone with difficulty mobilizing. For instance, the bathroom may include a roll-in shower, handicap bars, and a nurse-call system in case the senior slips and is unable to get up.
Depending on the community, there may be particular bathrooms that are american disabilities association compliant. If this is a concern for you, check with the assisted living communities that you are considering.
Closets
Do you have a big shoe collection? Closet or storage space can be limited in assisted living apartments. Older apartments may not have any closet space at all, or they may provide storage through a wardrobe closet. Newer luxury assisted living apartments may include a full walk-in closet or multiple closets.
It may seem strange, but some residents use kitchen cabinets to store linens or other items normally stored in a closet, since they probably need fewer cooking vessels.
How is Assisted Living Different From Other Types of Senior Housing?
Assisted living differs from other types of senior housing in that it provides personal care services to its residents.
Key Points
55+ or active adult communities are designed for very independent seniors around common amenities and activities (golf, tennis, croquet, swimming, etc.)
Independent living communities don't offer personal care services by default (see below for more nuanced differences)
Memory care is a subset of assisted living, designed specifically for those residents that suffer from dementia or alzheimer's disease.
Nursing homes residents need more care
How Does Assisted Living Differ From Independent Living?
Since independent living and assisted living are so similar, they can often be confused. Assisted living and independent living communities offer many of the same services including dining, housing, maintenance, transportation, and social activities.
Assisted living communities, however, offer personal care services to their senior residents by default, while independent living communities typically only offer these services through home care. That is the primary difference between assisted living communities and independent living communities.
This line can be blurred further in communities that have mixed independent living/assisted living populations. In that case, any apartment licensed for assisted living could house an independent living or assisted living resident.
Other communities will have clearly separated types of care, wherein the independent living residents and apartments are in one part of the campus and the assisted living residents and apartments are in another section.
Regulation
Since assisted living offers personal care services by default, including medication management, assisted living facilities are often more regulated than independent living communities. For instance, in many states, assisted living communities are often regulated by a department of health and human services or similar department, that inspects the community every year.
These inspections are then reported and made available online. The report typically consists of a review of the staffing levels of the community, medical and health records, individual care plans, and dining sanitation among other points of review.
An assisted living facility that receives a poor inspection, may be put on probation until proof of reconciliation of the error is made. In more severe cases, such as a death by negligence, a community may be prohibited from taking new admissions or may have its license revoked.
Independent living communities are less regulated, but the nature of the residents in independent living versus assisted living means that the reduction in regulation does not necessarily indicate an environment that is less safe than assisted living.
Amenities and Activities
Living in an independent living community is often a lifestyle choice versus a strong need, such as in the case of assisted living. As a result of this choice and the typically more able independent living residents, independent living communities often invest in more amenities and activities to attract senior residents.
These amenities may include fitness centers, cafes, putting greens, game rooms, chapels, theaters, on-site doctor's office, telemedicine office, and many more. Social activities may include outings to symphony concerts, shopping, local sporting events, and live theater. Or the community may offer fitness, card games, or other activities within the community.
High-end assisted living communities, however, may offer some of the same amenities and services.
Housing Types / Sizes
Assisted living apartments are typically smaller than independent living apartments. For instance, assisted living apartments often range from 250sf to 800sf. Independent living apartments, however, often range from 350 sf to 1,200 sf or more.
Since independent living residents don't have to pay for care costs, they may have additional funds for larger apartments. Couples are also more common in independent living, which may drive some of the need for additional space.
Home Care in Independent Living
To make it more confusing about the difference between assisted living and independent living, some independent living communities offer personal care services through home care. In fact, since an independent living apartment is technically the resident's home, home care for personal care services can be provided in any independent living apartment.
So, even if a community markets itself as an independent living community only, you should still be able to receive personal care services as you would in an assisted living community, except you'd need to contract with a third-party home care provider to receive those services.
Some independent living communities will partner with preferred third-party home care providers to provide home care services in independent living.
This is particularly true for independent living communities that want to market to seniors that they can provide assisted living, even if their facility is not licensed for assisted living. The home care provider in this case would have the appropriate license.
Many seniors find it reassuring to know that care is available as their needs progress. The senior living industry calls the different care types available, depending on the seniors' care needs, a continuum of care.
Other communities will actively discourage the use of home care in independent living and may encourage residents to move to the assisted living wing of the community or to another community if they do not offer assisted living. This pressure may be the result of complaints by other independent living residents, or it may spring from a financial consideration.
How is Assisted Living Different From Memory Care?
Memory care is actually a sub-type of assisted living. Like assisted living, memory care residents receive personal care services to help them meet their daily needs for grooming and other activities of daily living. However, memory care communities tailor these personal care services, and the community's environment, to the specific needs of those suffering from dementia or Alzheimer's.
Activities
For instance, the programming (activities or events) may be tailored specifically for those suffering from dementia. The community may offer music or other therapeutic activities. It may encourage general wellness through fitness classes for those suffering from dementia or alzheimer's. It may also have life-skills station with activities that the senior resident may innately remember.
In addition, memory care communities often have design elements that are specific to the needs of their residents. Keepsake or memory boxes are often hung outside the resident's doors. These boxes are filled with pictures of family or personal articles for the seniors and make it easier for them to navigate to their rooms. Some communities are designed with a walkable loop around the building, so that residents can walk for therapy.
Most memory care communities or neighborhoods are secured or locked to prevent unsafe ingress and egress. The purpose of securing this environment is for the resident's protection.
You might have read an article about a senior suffering from dementia wandering away from home or away from a community that did not properly secure the community. The wandering resident was then exposed to traffic or the elements, which can be a perilous situation. That situation is why memory care communities are secured.
Memory care communities without an explicitly secured environment may utilize wanderguard anklets that sound alarms if residents leave the safer, residential parts of the community.
How are Assisted Living Communities Different From Nursing Homes?
Nursing home residents need more care than assisted living residents. Nursing homes provide nursing care to residents 24/7. This care is overseen by a registered nurse.
This care is often much more medical in nature and more intensive than the care provided in an assisted living community. For instance, a nursing home resident may be on a ventilator or require several nursing assistants to be lifted for bathing.
However, both assisted living facilities and nursing homes provide basic housekeeping, dining, and personal care services.
Nursing homes are regulated at both the state and federal level. As a result of these regulations, nursing homes are typically more institutional in nature. Nursing homes in states with certificate of need law may face limited competition, since the law discourages the construction of newer competing communities.
Nursing home care is available to all residents, regardless of income, if the patient meets the requirements. Most nursing home care is paid for by Medicare (short-term rehabilitation) or by Medicaid (long-term care). However, if you have assets or substantial income, your state will require a spend down of your assets prior to paying for your nursing home stay with Medicaid.
Assisted living communities, on the contrary, are primarily paid for through private pay means, including personal income and assets, long-term care insurance, or through social security. Some assisted living residents make use of veterans' benefits, although some states offer strong Medicaid Waiver programs where assisted living is paid for on the behalf of low-income senior citizens.
Who Qualifies for Assisted Living?
Key Points
Assisted living typically requires that a resident need assistance with 1-2+ activities of daily living
Independent living is a better choice for seniors with fewer care needs
Nursing homes are often required for seniors with very high-acuity care needs
Most assisted living residents are in their 80's, but the legal minimum is usually 55 or 62
To qualify for assisted living, you typically need assistance with a minimum of 1 or 2 activities of daily living. This is tested prior to moving in through a questionnaire. The questionnaire is administered by a licensed practical nurse, registered nurse, or other direct care administrator.
The community will also use your questionnaire to determine which level of care you need and to develop an individual care plan. The individual care plan will outline the future care to be provided to the prospective resident, describing which personal care services will be provided and when. This plan is typically reviewed often and updated as requested by the healthcare coordinator or other medical professional.
The questionnaire involves a series of questions about your ability to meet the activities of daily living. The answers to these questions are typically aggregated through a calculation to determine which level of care the senior's care needs belong.
Example Qualification Process
Let's say that mary l. Lamb was looking to move into assisted living after touring several assisted living communities in the nashville area with her daughter. Mary decided that she liked the shepherd's courtyard assisted living due to its strong care reputation and beautiful outdoor spaces.
After touring the community, mary expressed her interest in moving into shepherd's courtyard. Mary and her daughter then met with the administrator and healthcare coordinator to determine what level of care she would need.
After answering a series of questions, the administrator and healthcare coordinator informed mary and her daughter that mary needs the community's level 1 of care, due to mary's need for assistance with medication management and some assistance with dressing. Mary is excited to be done with this part of the process and looks forward to moving into the community.
What if I Don't Qualify for Assisted Living?
If your care needs don't meet the requirements for assisted living, you may still be able to enter the community as an independent living or residential living resident. It's not uncommon for a couple to live in assisted living where only one of the residents is receiving assistance with the activities of daily living.
If your care requirements are in excess of those provided by the community that you're interested in, then you may need to find an assisted living community that admits high acuity residents or look for a nursing home that can meet your needs.
What are the Requirements if Medicaid is Paying for My Assisted Living?
The requirements for entering assisted living that is paid for by Medicaid, depends on the requirements of your state's Medicaid Waiver program. These requirements are often stricter than those of an individual community, since you will be using taxpayer generated funds for your stay.
In addition, the questionnaire or test required for entering assisted living through a Medicaid Waiver program is typically administered by an employee of the state or through an independent third-party, such as an independent doctor or registered nurse. This additional stipulation is created to prevent Medicaid fraud.
What is the Average Age of Assisted Living Residents?
The average age of assisted living residents is 84. Approximately 25% of residents are younger than 80, and many are over 85. Health conditions tend to be the primary driver of resident age in an assisted living facility, since the minimum age requirements of 55 or 62 years old are so far below the average resident's age.
How is Assisted Living Regulated?
Assisted Living Regulation Categories
Staffing Levels
Individual Care Plans
Medication Management
Employee Records
Building Codes
Assisted living is regulated at the state level, so the rules surrounding regulation depend on the state where the assisted living facility is located. Even the terms used to describe assisted living vary from state-to-state. Some states may refer to assisted living communities as personal care homes, adult care homes, among others. However, most states regulate the same activities in a similar way.
Most states regulate assisted living to ensure that providers meet certain minimum requirements prior to receiving a license to provide assisted living care. After the community has met those requirements and passed an inspection, the state will inspect the community annually (or more often) to ensure compliance with a number of regulations intended to ensure the safety and welfare of residents.
These inspections can be reviewed online for a number of states.
If a community fails an inspection, it may be put on probation, refused the ability to accept new residents, or have its license suspended in rare cases.
Even the best communities will miss a minor regulation, but negligence or abuse by a community that results or could result in the untimely death of a resident will lead to graver penalties for the community.
Most states review a community's staffing levels (to ensure adequate direct care staff to residents), individual care plans to ensure residents are being provided the proper amount and types of care, medication management records to ensure residents are receiving appropriate doses of their medicines, employee records to ensure that staff are properly vetted and qualified to provide care, and building codes to ensure a safe environment for the residents.
Many older assisted living facilities have been grandfathered in under fire regulations that did not require sprinkler systems or suitable ingress or egress, due to the enormous cost of retrofitting these systems into older buildings. If you have a concern about fire safety at a community that you're considering, reach out to the community to confirm that they have a proper fire-suppression system in place.